If you ever need an example of the sheer scale of career opportunities on offer at KONE, look no further than Steve Caratzas.
In 1988, Steve joined KONE as an apprentice electrician. Today, he is Regional Director of NSW and ACT, overseeing more than 500 people.
"You just keep pushing, keep growing. With each role came different challenges that I needed to overcome and over 30 years this has contributed to building a great career at KONE," says Steve.
While Steve never set out to reach director level, he has always focused on the next step and taking every opportunity with both hands as they came. His desire to push himself stretches back to the very beginning, initially attracted to KONE by the possibility of applying his electrician skills across a variety of fields.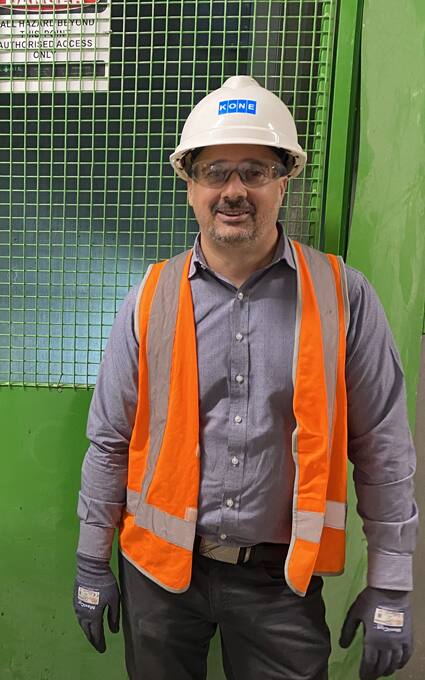 "I wanted to work for a company that had a range of working environments. KONE had construction, modernisation and service – 3 disciplines offering different electrical experiences in a technically complex industry."
After cutting his teeth as an electrician, and following a short stint at NSW Ambulance, Steve then set his sights on moving into Sales, enticed by a completely new challenge (as well as the perks of the role, perhaps).
"It's funny, I knew a guy in sales and he had a company car. I thought that would be pretty cool, so I really pushed myself to step up get the role. At the time that was pretty exciting!"
From there, Steve has never stopped pushing. Constantly reaching for his next test, he has gained experience in operations, sales, technical support, remote people management and branch management.

"It has really given me a great holistic view of the company and an understanding of all disciplines across the business. It's good now because no one can trick me," he laughs.
As Regional Director, Steve sets and drives the strategy for both New South Wales and ACT. He works closely with business managers across construction, service and modernisation, as well as support functions including human resources and finance. While using his vast knowledge of the business to make big picture decisions is certainly paying off, it's being part of other people's growth that he enjoys most about the role.
"The most rewarding thing for me is getting to develop people. A big part of my role is building a strong culture and supporting people in their careers is something I love."
"We treat our people very well and it really does feel like a family."
As if having a family culture wasn't enough, both of Steve's sons have also joined KONE as electrical apprentices.
"I never pushed them to join but it was really a result of a lifetime of KONE talk around the dinner table."

And after seeing first-hand the type of career they can build themselves at KONE, it's hardly surprising that they would want to follow in Steve's footsteps.

"The youngest is a final year apprentice and comes out of training next year, while the oldest is furthering his studies part time and building up his skills running modernisation projects. He would want to follow a similar path to me, which is exciting to see.

"Now my wife hears work talk from both the boys and me, so she gets the full picture. I think she knows more about KONE than I do."

Reflecting on his own career and achievements, Steve's advice for his sons and those new to the business who want to see success is to be always looking for ways to improve and evolve yourself.

"There's a lot to learn and in a business as large and complex as KONE, there are so many opportunities to develop yourself and make a difference.

"I'd say be prepared for an amazing journey. We've got great opportunities locally and abroad, and your career aspirations really are limitless."

And it's fair to say, Steve would know.

At KONE, our people are on the move. Like our elevators, escalators and doors, we move up, down and in between, through the office, out on the road and onsite.

The movement in our work extends to our careers too. To see how our opportunities could take you in different directions, search our current roles today.